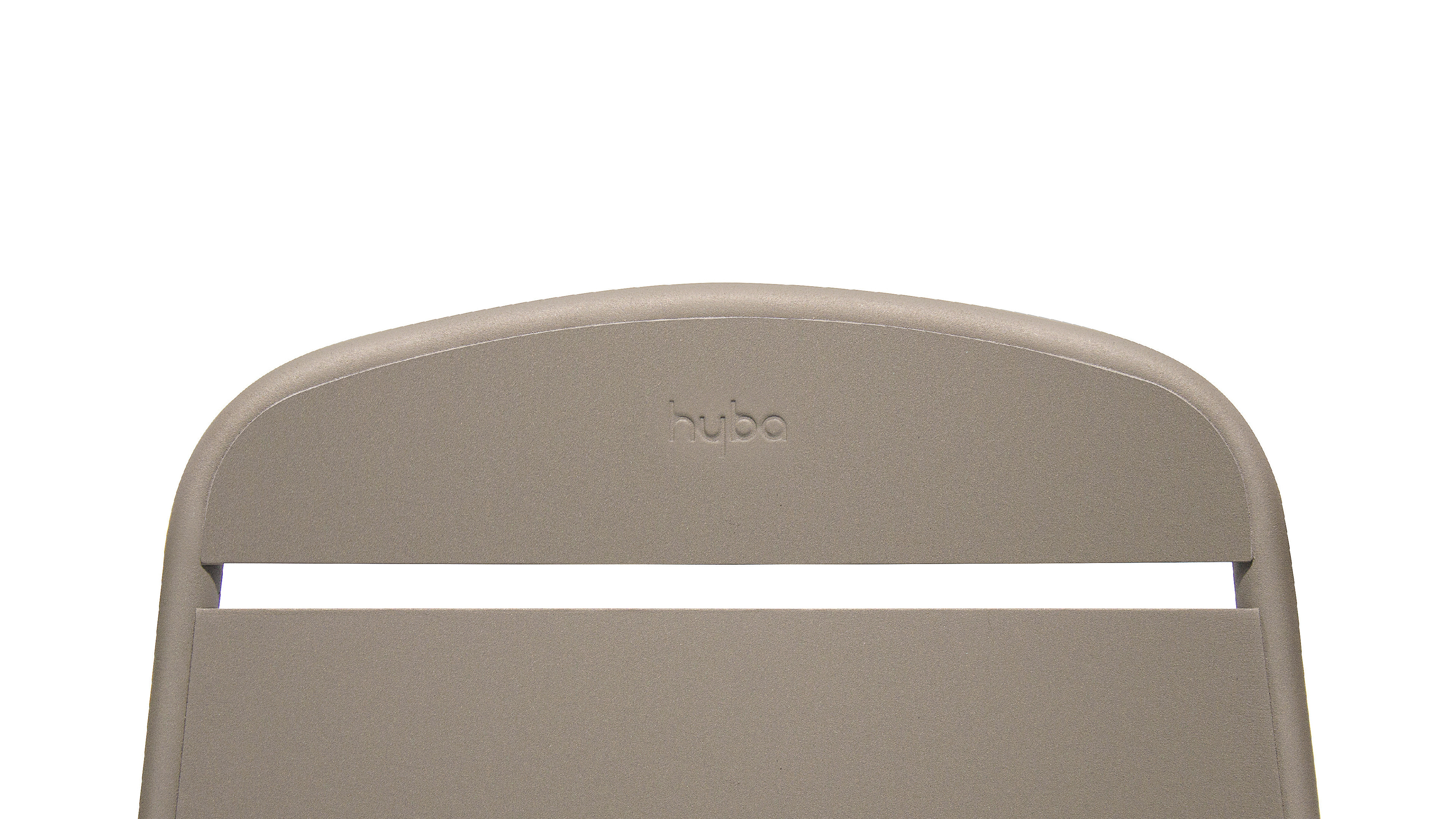 Chaise, Fauteuil, Fauteuil bas, Tabouret, Table 80x80, Table 145x90, Bain de soleil, Desserte, Table extension, Table pliante, Petite table ronde.
Chair, Armchair, Low armchair, Stool, Table 80x80, Table 145x90, Sunlounger, Trolley, Extension table, Folding Table, Small round table.
    
Inspired by Italian colorful villages. 
UN DEFI INDUSTRIEL | MANUFACTURING CHALLENGE
Lors de sa conception, un point d'honneur a été mis dans le travail du confort d'accueil. Plusieurs séries de prototypes ont été neccessaire pour atteindre la meilleure balance entre la qualité percue et la faisabilité industrielle.
A perfect synthesis of innovative design and manufacturing skill, the aesthetic quality of the furniture is distinguishing by its sophisticated workmanship and great attention given to the finest details.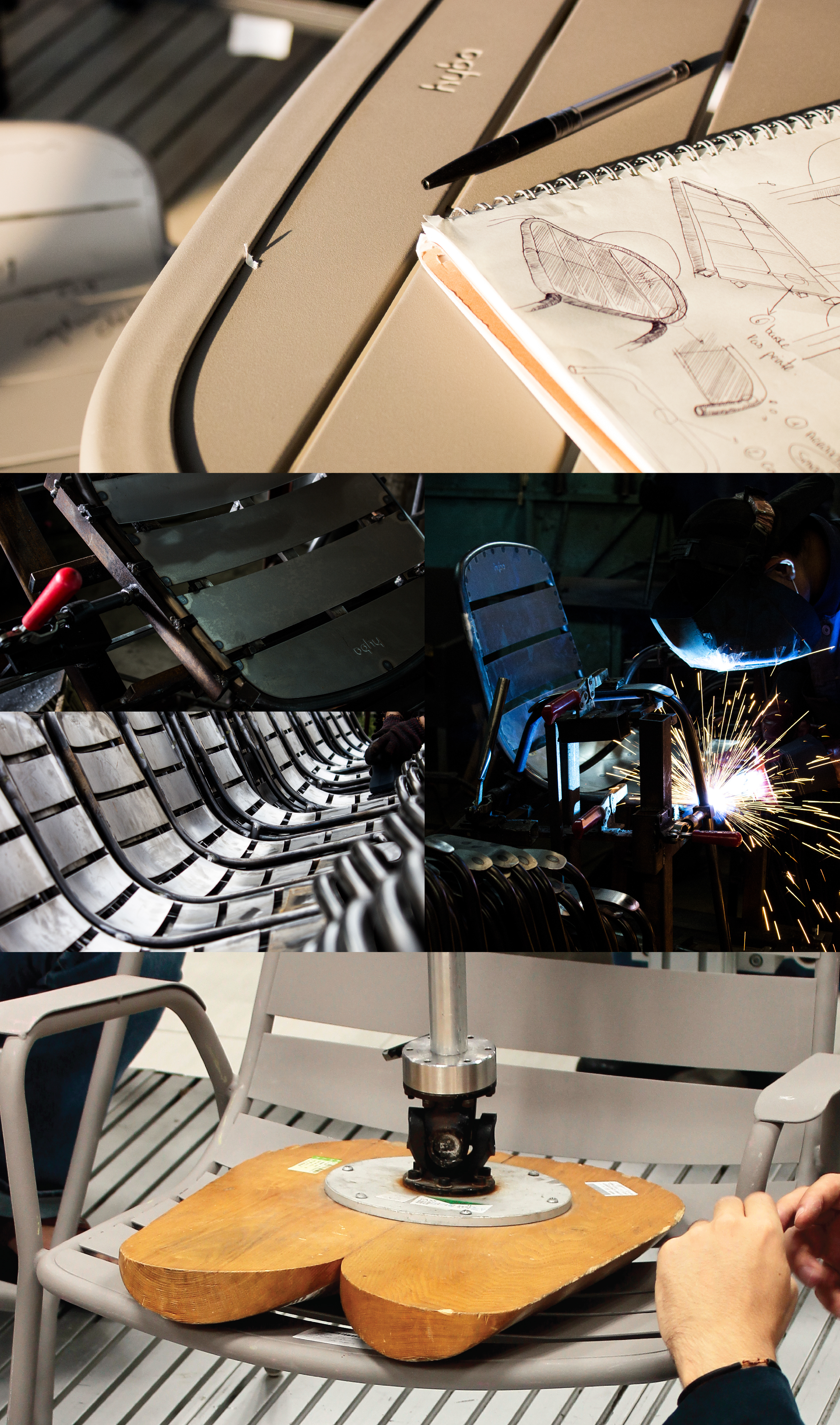 TOUT EN COURBE | FULLY CURVED
Toute en rondeur cette gamme Hyba est émotionnelle et tonique. La particularité de ces chaises étant le galbe de l'assise, cette courbure légèrement convexe, qui procure un confort optimal pour des chaises en acier. Ses couleurs ont été élaborées pour être mélangées, mixées en fonction du désir des utilisateurs. Pour résister aux agressions du temps, l'acier est protégé par un traitement au zinc et un revêtement époxy.
Brimming with curves, this Hyba range is emotional and invigorating. What makes these chairs stand out are the outlines of the base: the slightly convex curvature provides optimal comfort for steel chairs. Its colours have been designed to be blended and mixed up depending on the user's desires. To ensure their durability, the steel has been zinc-treated and protected with an epoxy coating.
ENTIEREMENT RECYCLABLE | FULLY RECYCLABLE
Entièrement  recyclable et à l'infini, l'acier est le matériau anti-gaspi par excellence. Avec lui, rien ne se perd. Ayant un taux de recyclage qui dépasse les 62%, l'acier est le matériau le plus recyclé en Europe.
Fully and indefinitely recyclable, steel is one of the most efficient materials in terms of waste: nothing is lost. Steel is the most recycled material in Europe, with a recycling rate exceeding 62%.
Partager des moments hauts en couleur ! C'est l'heure de siroter un jus de fruit frais au bord de la piscine et de profiter du soleil. Amis et famille se retrouvent autour d'une table festive et colorée. Une palette de couleurs vives et vitaminées, des formes résolument sympathiques pour un extérieur haut en couleur.
Share colourful moments! It is time to sip a fresh fruit juice by the side of the pool and enjoy the sunshine. Friends and family gather around a festive and coloured table. A palette of bright and vibrant colours and shapes which are ideal for a colourful and lively exterior.
NOUVEAUTES 2017 | THE NEW ITEMS OF 2017
Avec les nouveautés de la gamme Hyba acier 151, vous continuerez à partager des moments hauts en couleur ! Le Jardin étant un univers à part, ces nouveautés ont été dessinées dans cet esprit. En facilitant toujours plus la relaxation et en donnant l'opportunité de partager ces meilleurs moments en famille et entre amis.
With the new items of the Hyba acier 151 range, you will continue to share colorful moments! The garden being a unique atmosphere, they have been designed to fit to the spirit by facilitating relaxation and giving the opportunity to share these best moments with family and friends.
LE FAUTEUIL | THE ARMCHAIR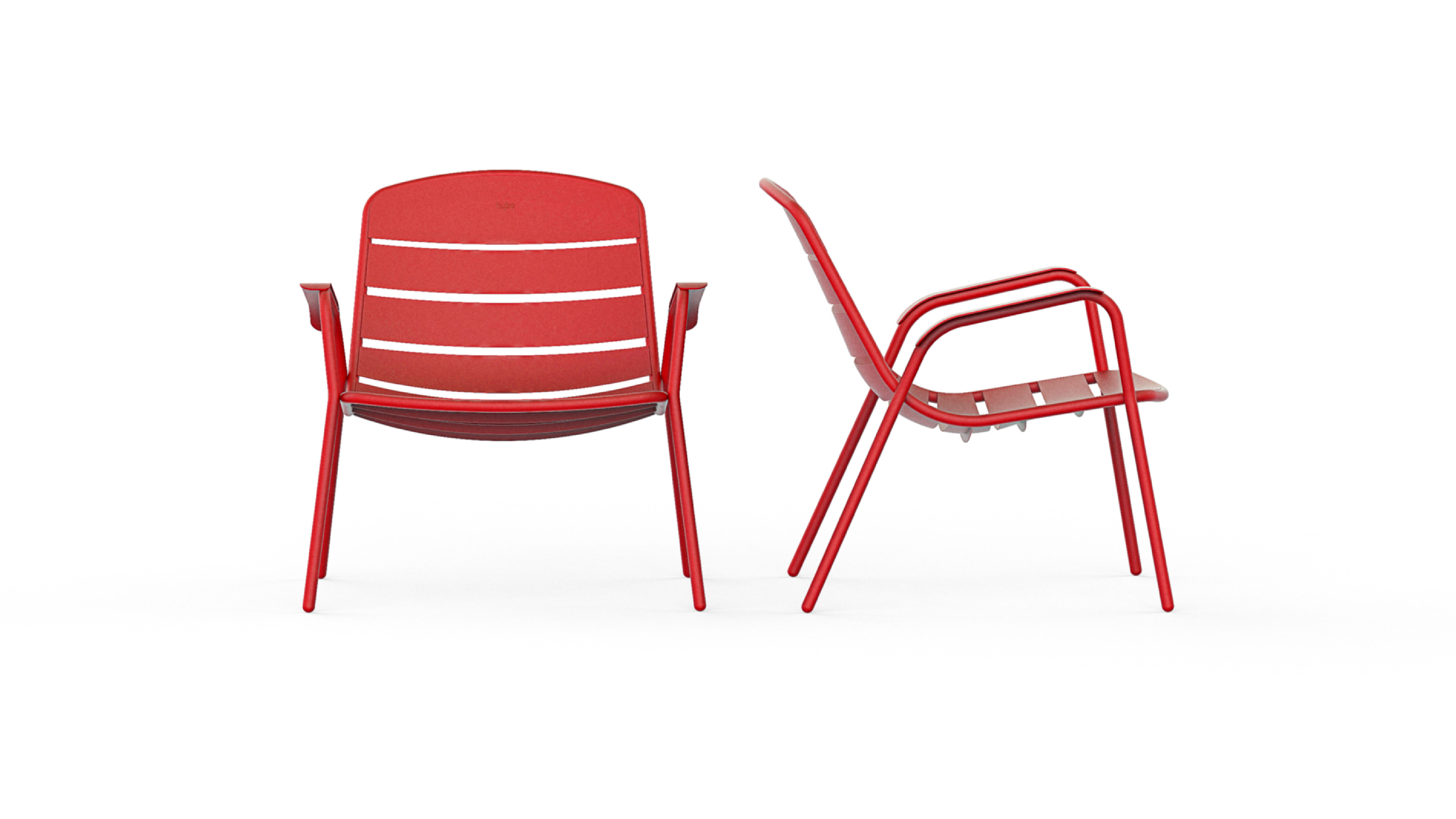 LE FAUTEUIL BAS | THE LOW ARMCHAIR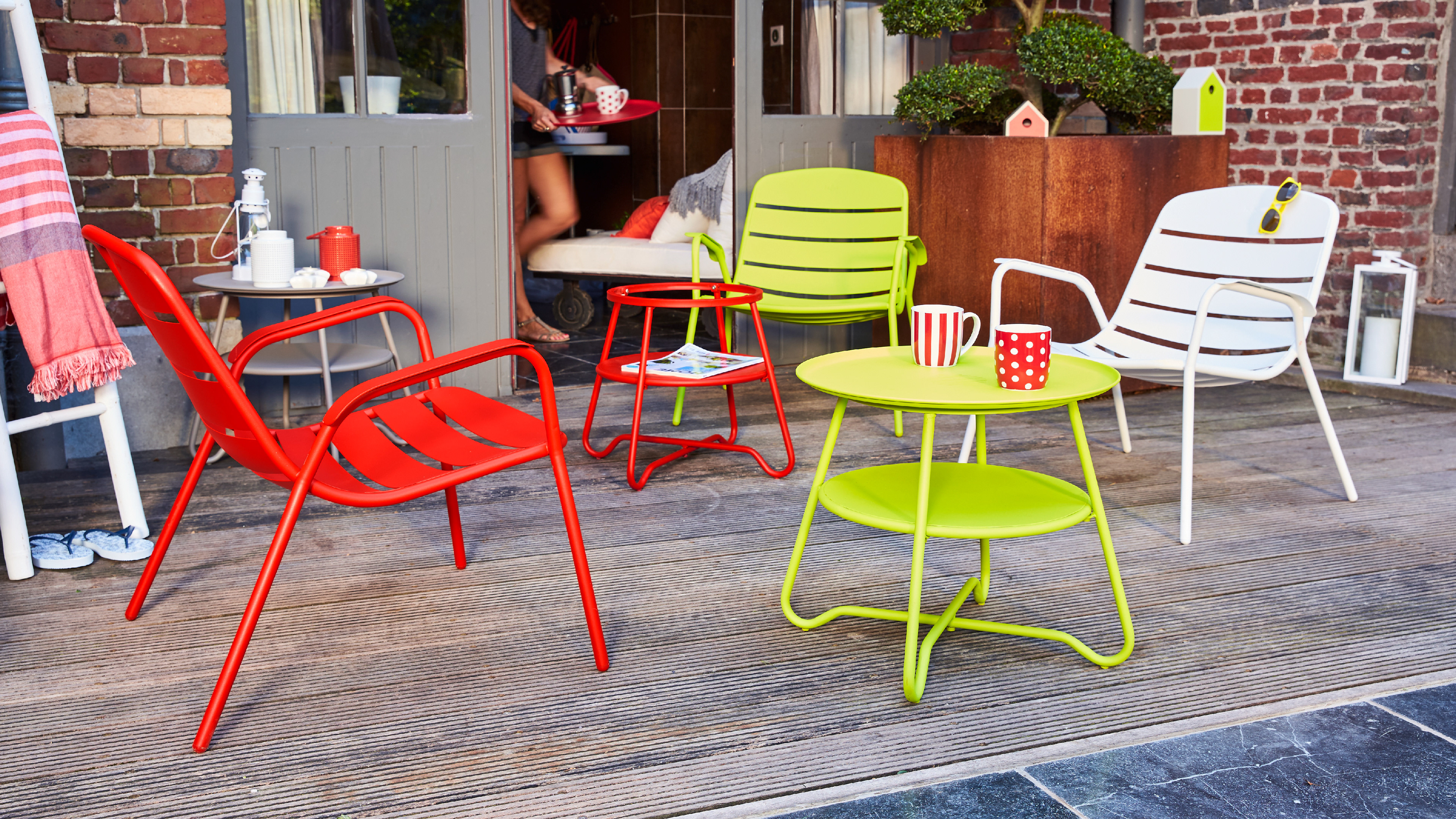 LA PETITE TABLE RONDE
| 
THE SMALL ROUND TABLE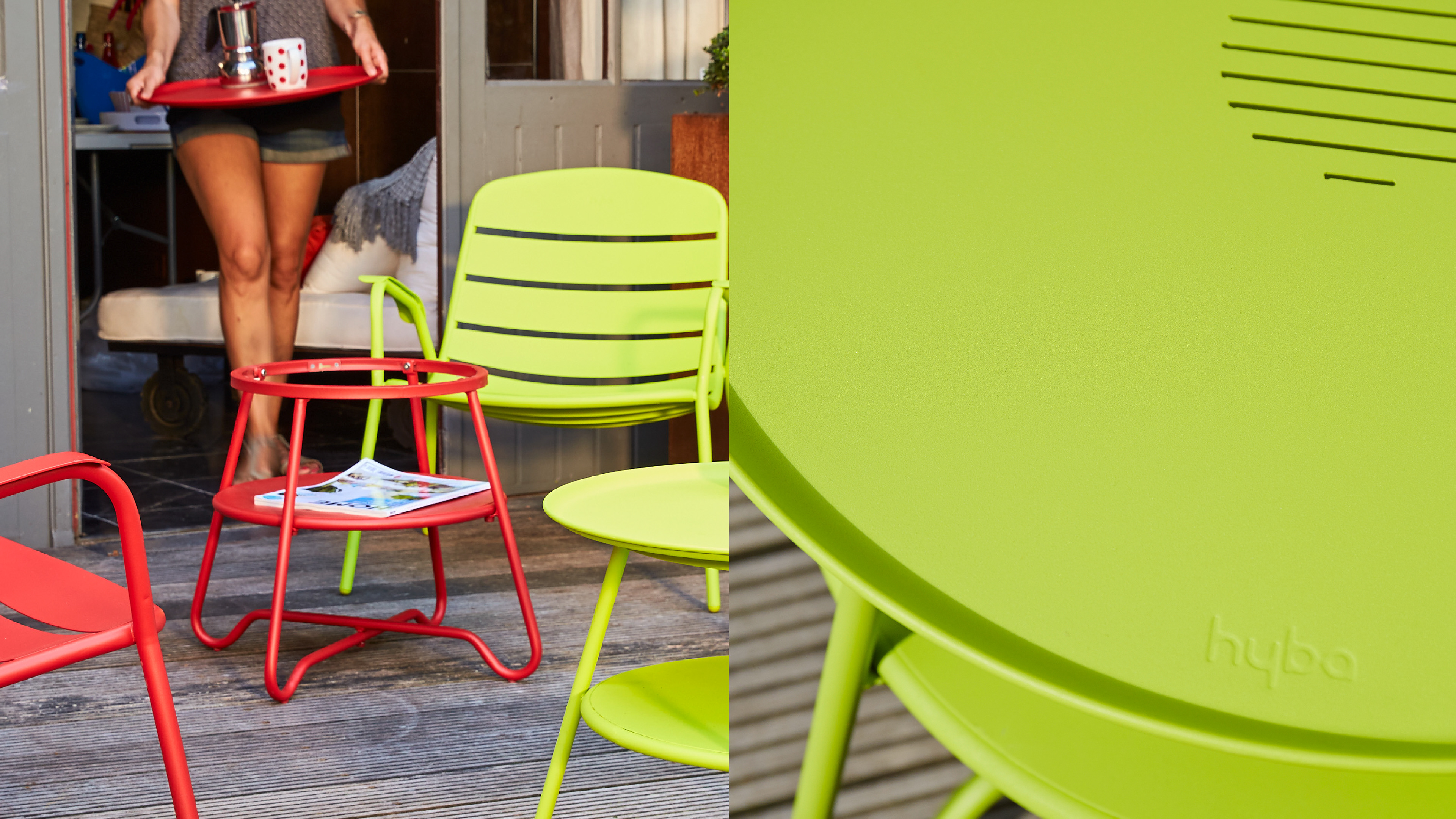 LA DESSERTE
| 
THE TROLLEY
LE BAIN DE SOLEIL
| 
THE SUNLOUNGER
LA TABLE EXTENSIBLE 240/180x100
| 
THE EXTENSIOM TABLE 240/180x100
LA TABLE 145x90 
| 
THE TABLE 145x90
LA TABLE PLIANTE 90x90 
| 
THE FOLDING TABLE 90x90
LA TABLE BAR 70x70
| 
THE BAR TABLE 70x70