HYBA MIXMATIERE 155 - 2017
Chaise, Fauteuil, Table ronde D110, Table Aluminium&Eucaluptus  200x100.


Chair, Armchair, Round table D110, Table Aluminium&Eucaluptus  200x100.
Inspired by romantic gardens.
UN DEFI INDUSTRIEL | MANUFACTURING CHALLENGE 
Synthèse parfaite entre design novateur et savoir-faire, la qualité esthétique de ce mobilier se distingue par l'extrême finesse de sa réalisation et le soin apporté aux détails les plus fins. 
A perfect synthesis of innovative design and manufacturing skill, the aesthetic quality of the furniture is distinguishing by its sophisticated workmanship and great attention given to the finest details.  
ENTIEREMENT EN ALUMINIUM | FULLY IN ALUMINIUM
Nous avons ont cherché à valoriser l'aluminium en jouant fortement sur les détails d'assemblage entre les différentes parties de l'objet. Les formes rondes ainsi créées pour ce mobilier apportent une intemporalité et une vraie solidité pour un usage dans la durée.
We have sought to valorise aluminium by focusing on the way the various parts are assembled. The round shapes thus created for this furniture bring a certain timelessness, and procure a true sturdiness to make it last for a long time.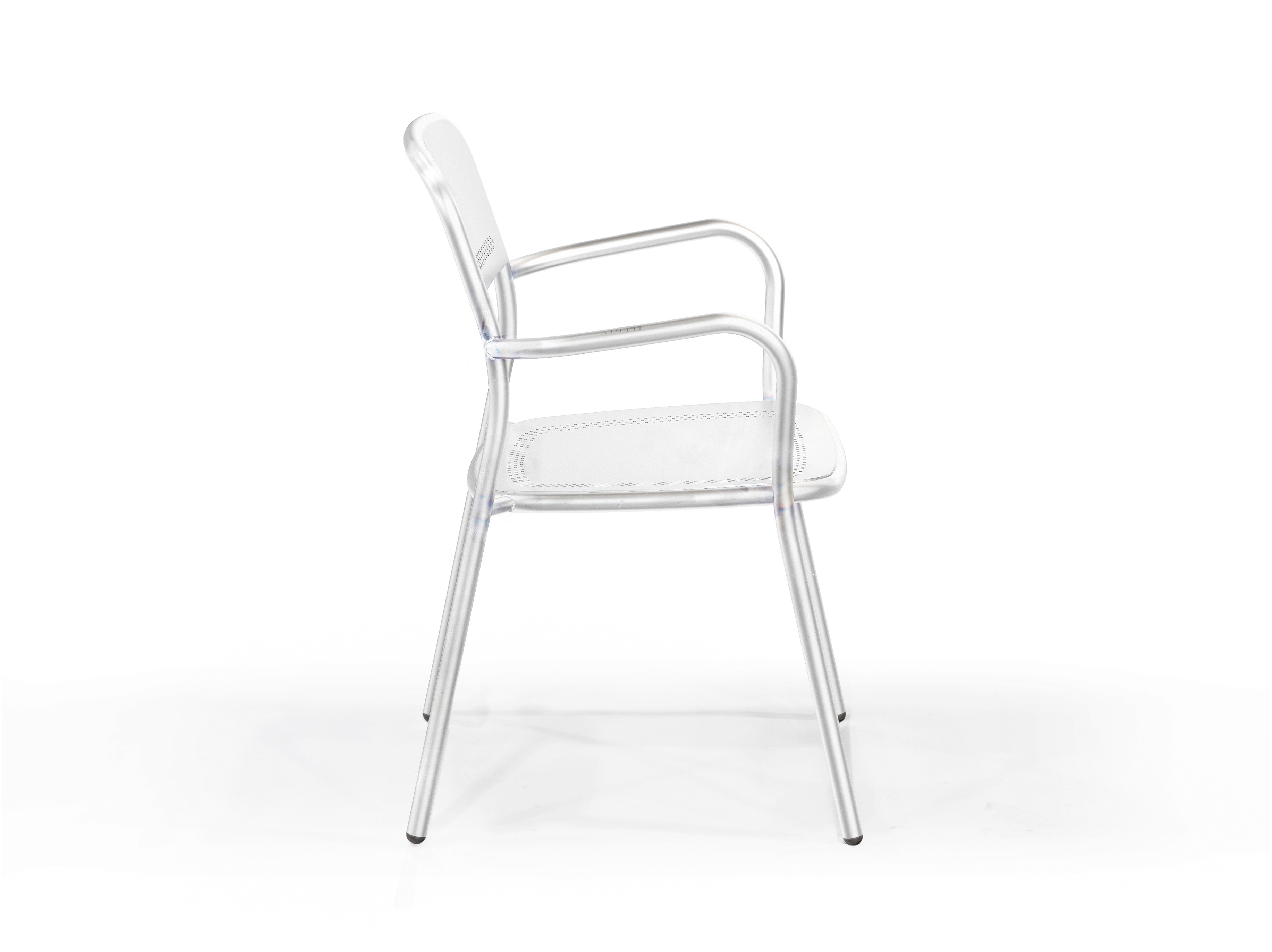 RESISTANT A LA CORROSION | CORROSION RESISTANT
Le mobilier de jardin est un genre d'équipement conçu pour l'usage extérieur et donc sollicité par les caprices météorologiques. L'utilisation de l'aluminium garantit une très bonne résistance à la corrosion.
Garden furniture is destined for outdoor use and therefore submitted to the whims of nature. The use of aluminium guarantees an excellent resistance to corrosion.
​​​​​​​
ULTRA LEGER | SUPER LIGHT 
L'aluminium est un métal très léger dont la densité spécifique est de 2,7 g/cm3, soit environ un tiers de celle de l'acier (7-8 g/cm3) ou du cuivre (8,96 g/cm3).
Aluminum is a lightweight metal, whose specific density is 2,7 g/cm3 is about one third compared to steel (7-8 g/cm3) or copper (8,96 g/cm3).
ENTIEREMENT RECYCLABLE | FULLY RECYCLABLE 
L'aluminium est recyclable à 100% sans dégradation de ses propriétés. Son recyclage ne nécessite que peu d'énergie : 5% seulement de l'énergie utilisée pour la production de métal primaire.
Aluminium is 100% recyclable, without any loss of its natural qualities. Its recycling requires little energy : the recycled variant only requires 5% of the energy consumed during primary production.
Recevoir avec élégance dans un jardin chic et urbain. Des formes simples, épurées, et des teintes sobres pour un style contemporain. Préparez une belle table et allumez quelques bougies pour une ambiance chic réussie.
Elegantly entertain guests in a chic and sophisticated garden. Simple shapes, uncluttered lines and sober colours for a contemporary style. Prepare a fine-looking dinner table and light a few candles to successfully create a chic atmosphere.
LE FAUTEUIL | THE ARMCHAIR
LA TABLE RONDE D110 | THE ROUND TABLE D110
LA TABLE ALUMINIUM & EUCALYPTUS 200x100 | THE ALUMINIUM & EUCALYPTUS TABLE 200x100